12 Things To Do At Atlantis Bahamas: Ultimate Atlantis Bucket List!
Are you planning to stay at Atlantis Bahamas? You're in luck! There are many fun things and many fun-filled things to do on this tropical island. 
From lovely water parks and marine exhibits to exclusive swimming pools, elite golf resorts, and relaxing spa treatments, there are many more things to do at Atlantics.
I suggest getting a solid plan in advance to fully relish your vacation in the Bahamas. 
I'm Zoe Grace, and I have been traveling for a decade, mostly through cruises. And today, I'm your Atlantis Bahamas guide. Grab a cup of coffee and plan a perfect trip together. 
How Far Is Atlantis Bahamas From Cruise Port?
If you're heading towards Atlantis on a cruise, the nearest port of call is Nassau Cruise Port. The good news is it only takes 15 minutes from Nassau Cruise Port to reach Atlantis Bahamas. 
There are multiple ways to reach Atlantis Paradise, so you can choose the most preferable one. 
Remember that Nassau is the busiest cruise port in the Caribbean, so always go for the transportation that saves you time. Book a cab or hop on a ferry to reach your dream destination. 
Nonetheless, the ferry is quite affordable; it costs me $5 to reach the paradise island, and from there, you can reach Atlantics. But here is a catch: if no passengers are on the ferry, you must wait longer. 
The private cab is the best option for me; it costs $20 per person, and you can easily get it from East Royal Tower. 
You can also stroll over to the Atlantic Royal—it's about a 40-minute walk to get there. But it's not worth it if you're on a cruise since time is tight.
Things To Do At Atlantis Bahamas 
1- Where To Stay At Atlantis
The Atlantis is huge, and accommodation here is not a big problem, but selecting a suitable place to spend a night is a challenge. By the way, always top up your credit cards before you get here. 
The Royal Atlantis is the most expensive; if you're an affluent personality and can afford $1000 to $2000 per night, go for the Royal Atlantis. Here, you will feel that you're in paradise. 
However, The Coral, Cove, and Reef are also worth it at Atlantics to spend a night. Just book a room with a balcony to enjoy the beautiful view of the haven. 
I prefer to stay at Reef or Coral; both are affordable and have some of the best scenic views to satisfy your mind.
And yes, there are many things to do at both parts of Atlantics. You can also access the Royal Atlantics to see some of the major attractions there. By here, I'm only talking about a place to spend a night. 
If you want to enjoy the best view without breaking your bank account, I recommend staying at Comfort Suites Paradise Island or Warwick Paradise Island. Both of these offer luxurious night experiences. 
2- Visit Aquaventure Water Park 
The Aquaventure is the hip destination where happiness begins, and unlimited fun exists. The cool waterslides (for both adults and kids) make this place a must-visit place in Atlantis Bahamas. 
Among all the water slides, the iconic Mayan Temple slide is one of the most thrilling and best waterslides in the park, so don't forget to try it. The Rapids River is another fun activity at the park to do with your teen kids. 
On top of that, this waterpark has two enchanting pools– the Grotto pool with two magical waterfalls and the Mayan Temple pool– the best spot for swimming. 
Just a heads up! This water park is over 141 acres of area, so tightly buckle up your boots to explore the real fun. 
3- Spend Some Time In Atlantis Pools
The Atlantis is the world of luxurious and mesmerizing pools. Frankly speaking, I love Atlantis Bahamas due to its stunning pools.
And if you have kids, don't worry; there are separate pools where kids can spend some of the best moments of their lives. 
Among all the great pools, the Cove Pool, Mayan Temple Pool, and Cascades Pool are my favorites. For kids, there is a Poseidon's Playzone pool with many water slides, fountains, and water cannons for endless fun. 
4- Go For Movie Night At The Atlantis 
Watching a movie at Atlantis is one of the best experiences. There are some elite-class theatres where you can spend quality time with your loved ones and watch your favorite movie. 
The Atlantis Bahamas offers an amazing theater to watch the latest Hollywood blockbuster movies. Just grab popcorn, some beverages, and hop into the cinema for the next relaxing experience. 
5- Visit Marine Exhibits 
Do you have kids at Atlantis Bahamas? If yes, don't wait. Just make it here quickly for unlimited fun. You will see some unique marine life, coral formations, and caves there. 
There are over 250 marine species underwater; you can see all this through 100-foot-long underwater tunnels.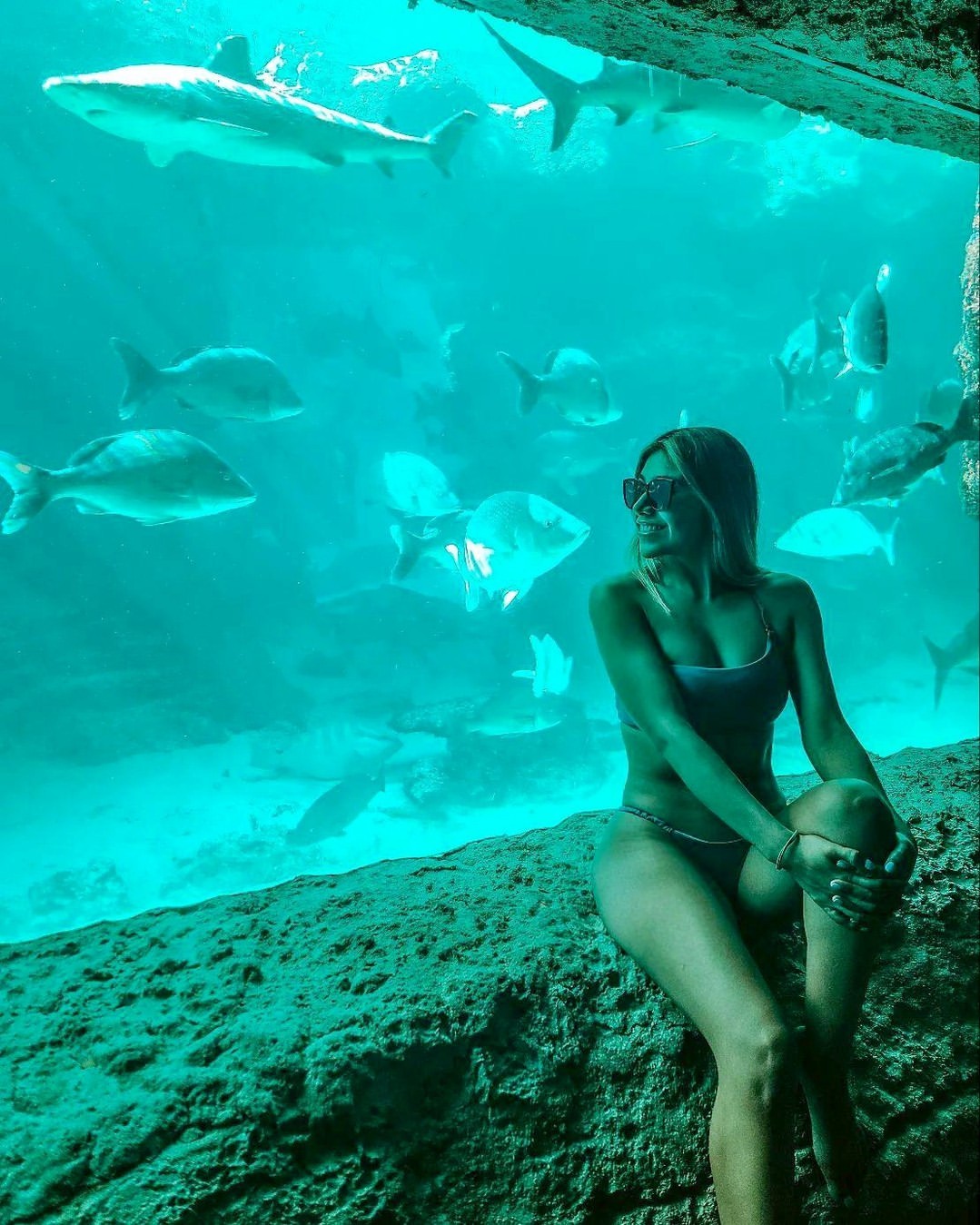 Apart from that, there are some lagoons where you can self-explore some rare marine species. Visiting Marine Exhibits is one of the best things to do at Atlantis Bahamas. 
6- Take A Spa Treatment 
Do you want to relax your body and mind from all-day traveling fatigue? Must come to the Atlantis Spa Center to get real peace of mind. They offer ancient Balinese healing touches, European therapies, and other treatments. 
There are over a dozen skin facials, body massages, deep tissue muscle massage, mandala massage, and some other body treatments. 
I got their mandala Hand Ritual, which offers the best traditional manicure and polish. After this ritual, your hands will feel like cotton, and I have soft hands. Even though their prices are steep, the services are always worth the money. 
7- Enjoy Golf At Ocean Club 
Golf lovers are ready to step into the mesmerizing golf course of Atlantis Bahamas. With a beautiful Atlantic Ocean view, I think this golf course is among the best in the Caribbean. There is also a Golf shop form where you can rent out Golf accessories. 
Golfing novices can also indulge in a golf school, where you can learn from the basics to advance.
To book your Golf Gateway package, you need a 5-night minimum stay at Atlantis. Cruisers don't have enough time, so they can skip this activity. 
The Golf course is so huge, you can imagine what 7,100 yards look like. But the beautiful scenery will never tire you.
8- Play With Dolphins 
The Atlantis Bahamas is the hub of human-friendly dolphins.
You can play and capture some great moments with these Dolphins. I enjoy playing with Dolphins, and kids get very happy seeing these friendly marine habitats. 
You don't need to be flair in playing with the bottlenose dolphin– the professional team's got you covered. Just stay chill and jump into the fun with these playful dolphins!
9- Try Ben & Jerry's Ice cream 
By the way, we often taste ice creams everywhere, but the one at Ben & Jerry's is so special, I can bet you will surely love it. If you're in Marina Village this shop is so near to you, just come earlier because the shop gets too busy in the evening. 
They have dozens of flavors; I love the Cherry Garcia and strawberry flavors; you can order one according to your taste. 
Heads up! B&J is open after 2 pm on some days and before 6 pm to avoid long queues. There are smoothies, shakes, and other non-dairy products, so you can also try them. Everything here is so yummy, and the staff is super friendly, too. 
10- Don't Forget Shopping At Atlantis 
Bummer, I kick myself for not splurging at Atlantis' fancy shops. I mean, last time I went all out at Cozumel, you know there is a luggage limit on cruises. 
But yes, if you're into luxury shopping, Atlantis Bahamas is worth it. They've got loads of high-end stores, retail spots, and brands from around the globe. 
I prefer Marina Village for shipping. First, the attractive streets of this village are worth exploring, and secondly, the shopping with the coastal line is always a top-notch experience. 
11- Enjoy Sunset Moment At White Beaches 
Who doesn't want to take deep breaths on the stunning beaches of the Bahamas? The sunset moment at Atlantis Bahamas is what I can't miss, and It's just a healing moment for me; it wipes out all negativity from the mind. 
I recommend you to always put this small chore on the top of your bucket list. During sunset, you can stroll on the beach, capture some of the best photos for your IG, and spend some quality time with your loved one. 
If you're a down rise, the sunrise view is always the best; the chill sound of the waves, birds doing their thing, and trees rustling – it's like you've landed in a little slice of paradise.
12- Rent A Private Cabana 
If you're feeling tired, the next thing you should do at Atlantis Bahamas is to rent a private cabana. Just kick back, grab some of the special cocktails, and enjoy the moments of life.
The sea view and natural breeze will heal your body and give you the most soothing experience. 
There are over 31 Cabanas at Atlantis Bahamas, so you can choose the best one that suits your needs. Almost all the Cabanas offer amenities like food, drinks, pool access, lounge chairs, and more. 
The Mayan Temple and Coral pool cabanas are the most worthy options. 
Final Thoughts
The Atlantis Bahamas will always remain my dream destination. This Island's chilling vibes and scenic views make you so much refreshing.
If you're on a Caribbean cruise, the Bahamas is a must-have stop, so keep ready the list of must-have things to do on this mesmerizing Island.
I hope you have liked this guide and it will be very helpful for you. Thanks!
I am Zoe Grace, a passionate enthusiast of cruise ships. With a decade of firsthand experience in the cruising industry, I have developed a deep understanding of the intricacies and wonders that these majestic vessels hold.
Now, I am excited to embark on a new journey as an author, sharing my knowledge and insights with readers who share my fascination for the world of cruising.
Join me as we explore the captivating world of cruise ships together.