Disney Cruise Cost | What Is Included | What's Not Included 
Disney Cruise is well known for its top-notch amusement and fun. If you're planning a voyage on a Disney cruise, you're in luck. A lot of fun things are waiting for you onboard. 
But wait! 
Does Disney Cruise offer all the amenities? What is included in the cost of a Disney cruise? And what costs you extra so you can pack it before embarkation day? 
Today, I will share my hands-on experience with a Disney Cruise. So you can get the most out of it. Be ready, travelers! Let's plan for a better experience.
What You Will Get In A Disney Cruise Fare?
1- Stateroom
Everyone wants superior accommodation onboard, and yup! With the Disney cruise, you will get a cozy stateroom, which is complimentary. 
By the way, there are several kinds of staterooms, from standard to luxurious Royal Suite.  
I often opt for the Deluxe Oceanview stateroom, and this one is the perfect option for a couple. A nice scenic view from the balcony is enough for me, and it's worth the cost. 
The cost of a stateroom varies from standard to luxurious. It depends on your budget. So, depending on your room type, the fares might move towards the steep side. 
In every type of stateroom, you will get all these amenities; 
TV
Mini Fridge
Hairdryer
Split bathrooms, showers, and baths. 
Storage space for luggage
Towels
And other daily-use bedroom items.
Tip: Avoid the cabin at the front and the back of the ship. The middle ones are best because you will experience less motion and no seasickness here.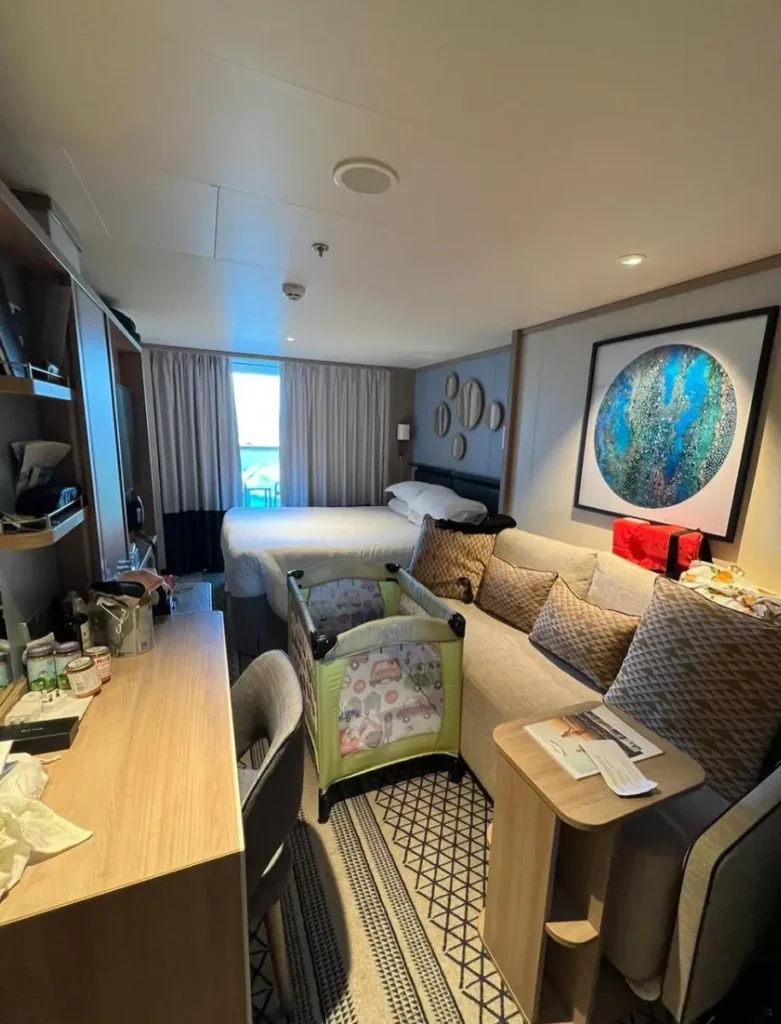 Thankfully, Disney Cruises also discounts Military folks and Florida Residents. Canadian residents can also get up to 25% discount on selected sailings. 
Besides this, the prices will differ for the stateroom you choose, the cruise duration, and the destinations. So check the official website to get know about fares. 
2- Food On Disney Cruise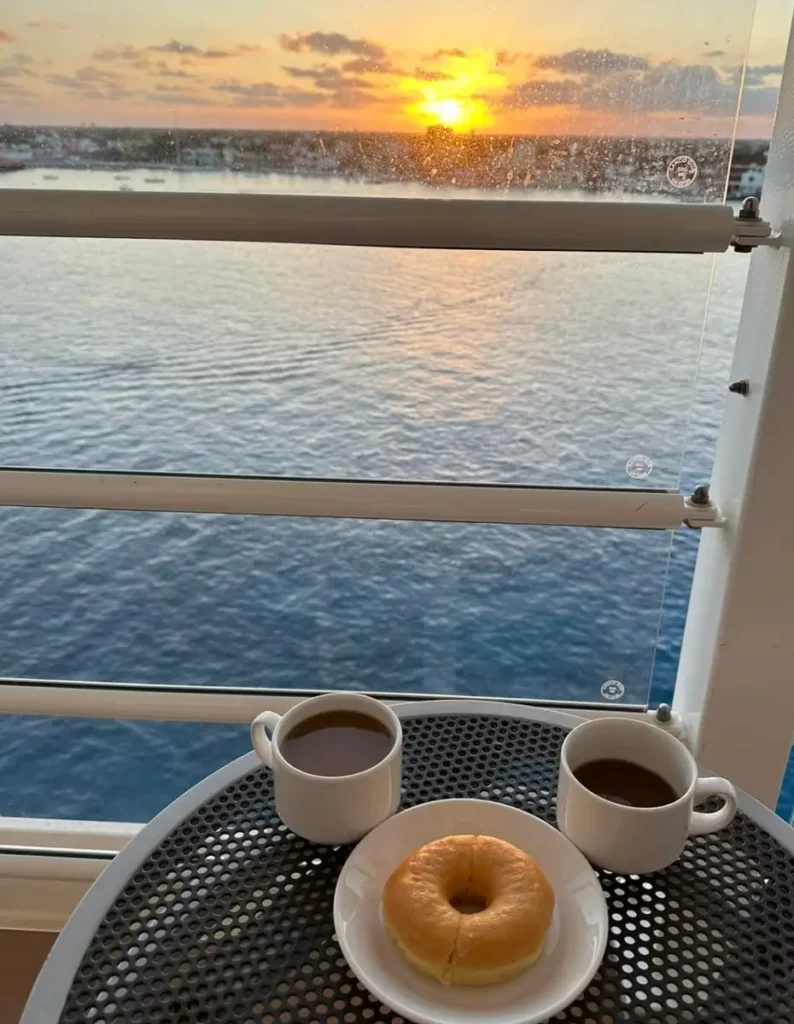 This is a huge topic, but I will try my best to keep it short. 
All the Disney Cruise fleet cruises offer complimentary dining and soft drinks. On top of that, breakfast and most launches are also complimentary on Disney cruises. 
So you don't need to worry about the food onboard. You just have to pay for alcoholic drinks and some of the libations. 
Just eat as much as you can without paying a single penny. Remember that overindulging in food can cause seasickness, so keep control of your belly too. 
When it comes to food quality, I will give it five stars. Chefs are professional, services are great, and you will stumble upon a diverse food menu. And sometimes you will feel overwhelmed by what to eat and what not. 
You can also get free pizza, ice cream, and some snacks. 
Like other cruise lines, the Disney cruise also offers complimentary room service, so you can order food directly to your room anytime. 
I really love the rotational dining concept on Disney Cruise, so you can enjoy extensive food options in different themed restaurants each night. 
There are many restaurants onboard, but the Marceline market has delectable tastes. If you're on a 14-day cruise, you can taste the food of every restaurant. 
3- Free Beverages 
One good thing about Disney Cruise is the free beverages onboard. Except for alcohol, all other beverages are free, including tea, soda, juices, coffee, and tea etc. 
Just grab a cup of soda and enjoy the beautiful sea view any time of the day. There are no limits regarding consumption, and you're free to drink as much as possible. 
This is a big benefit of Disney Cruise because other cruise lines charge extra for soda and other beverages. There is an onboard beverage station where you can get your free drinks. 
The nonalcoholic beverages ordered from the bars cost you extra money. However, you should go for a beverage station to save your money. 
4- Entertainment & Onboard Activities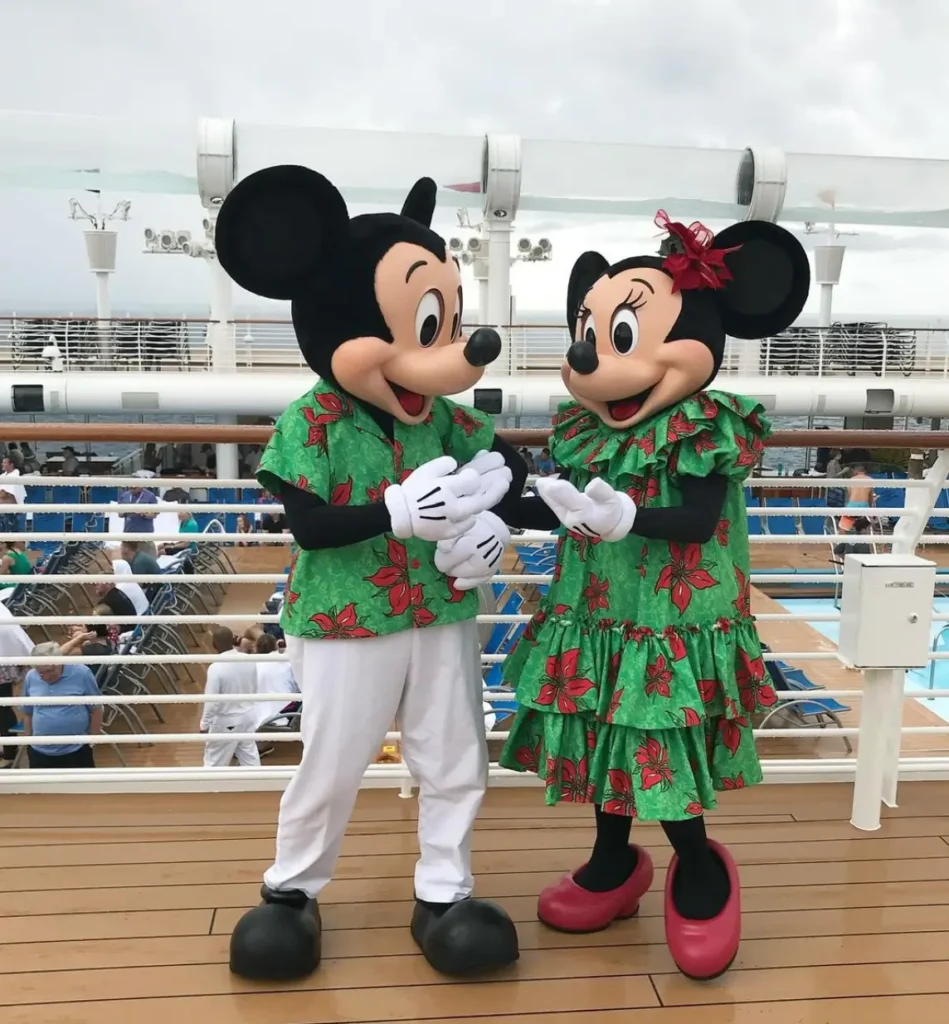 When it comes to entertainment, Disney Cruise stands out. The funny Disney characters, the special character breakfast, shows, Disney Pirates night, music, games, and other onboard activities make the Disney cruise so special. 
Especially if you have kids, the Disney cruise line is the best bet. Previously, there were Nickelodeon cruises, but now Disney cruises have replaced them. Kids will get the chance to meet with their favorite Mickey Mouse, Minnie Mouse, and Daisy Duck Characters. 
Plus, the pool and waterslides, an extreme entertainment source, are also free on the Disney cruise line.  
Don't forget to install the Disney Cruise Line Navigator app to easily access all entertainment onboard. There is endless fun on the Disney cruise, so don't miss it. 
All the entertainment activities are free on the Disney cruise. But for shore excursions, you have to pay some bucks. 
5- Access To State Of Art Fitness Center 
Fitness always remains my top priority while cruising, and with free gym on the Disney cruise, I often break a sweat. You don't need to pay a single penny to access weight machines and treadmills. 
There is a small fee for group classes, guided meditations, and such guided workouts. The gym remains open from 6:00 a.m. until 10:00 p.m. I often go there before breakfast, pump my muscles, and start the day with more energy. 
What's Not Included In Disney Cruise
Obviously, there are many facilities on Disney Cruise that come with a cost. 
First, you have to pay a fee for spa and salon services. The Rainforest room onboard offers all the spa. Relaxation massages, hot tubs, different types of showers, and much more services to calm your mind. 
Similarly, you have to pay for alcoholic beverages. However, nonalcoholic ones are free. 
Shore excursions and port activities also come with a cost. But it's worth paying because shore excursions always introduce you to a new experience. 
Besides this, you have to pay for professional photography services. But I always prefer to use my camera or phone to capture photos. I'm not a big fan of capturing moments, though. 
Disney Cruise line offers self-laundry service, and you can avail of this offer at a very small price. The cost of laundry depends on the amount of clothes that you're going to launder. 
Airfare and ground transfers are not included in the fare. You have to pay for the flights and cab to reach the port. 
Similarly, some of the specialty restaurants like Palo, Remi, and Enchanté are not free. These restaurants have some exclusive food items that are worth the extra charge. But I think the price of food items is normal, and you can enjoy the best food without breaking your bank account on a Disney Cruise. 
Final Thoughts 
The famous cruise line Disney offers a remarkable experience. Sailing with the Disney cruises is fun. Regarding the fare, I think this cruise line is a worthwhile option for travelers. 
Onboard, you'll enjoy many amenities and complimentary food that surpasses the offerings of most other cruise lines. The quality of the food and the variety on the menu stand out. 
The entertainment is unlimited, ensuring a fantastic experience for adults, especially the kids, who have a blast with the myriad of fun activities.
A few things cost you extra, but it doesn't mean that Disney Cruise Line will steal your bank account. The prices for these additional facilities are reasonable, and you can have the best experience without breaking a bank account. 
I am Zoe Grace, a passionate enthusiast of cruise ships. With a decade of firsthand experience in the cruising industry, I have developed a deep understanding of the intricacies and wonders that these majestic vessels hold.
Now, I am excited to embark on a new journey as an author, sharing my knowledge and insights with readers who share my fascination for the world of cruising.
Join me as we explore the captivating world of cruise ships together.