Norwegian Cruise Line Spa Price And Gym Cost!
Self-care is crucial whether you're sailing on the sea or in a home. Norwegian Cruise Line offers Mandara Spa and Salon for your peace of mind. 
I love NCL because of its freestyle traveling experience. On top of that, the spa room makes the experience more tranquil. Don't miss a chance to visit the spa room on a Norwegian cruise, and the staff will introduce you to a new peace of mind.  
I have been traveling with Norwegian Cruise Line since childhood, and rarely would that have happened when I missed out on the spa room tour. I usually prefer a spa after doing a workout in a gym. 
Norwegian Cruise Line Spa Price
The Mandara Spa on Norwegian Cruise Line offers over 50 specialty treatments to calm your body. Every treatment has different prices, so you should know about the spa prices before visiting the spa room. 
Below, I have shared a complete list of Spa treatments and their prices; you can see the preferable one and calm your body. 
Note:
The Norwegian Cruise Line Spa prices are subject to change in the future. I will update the prices if they get changed.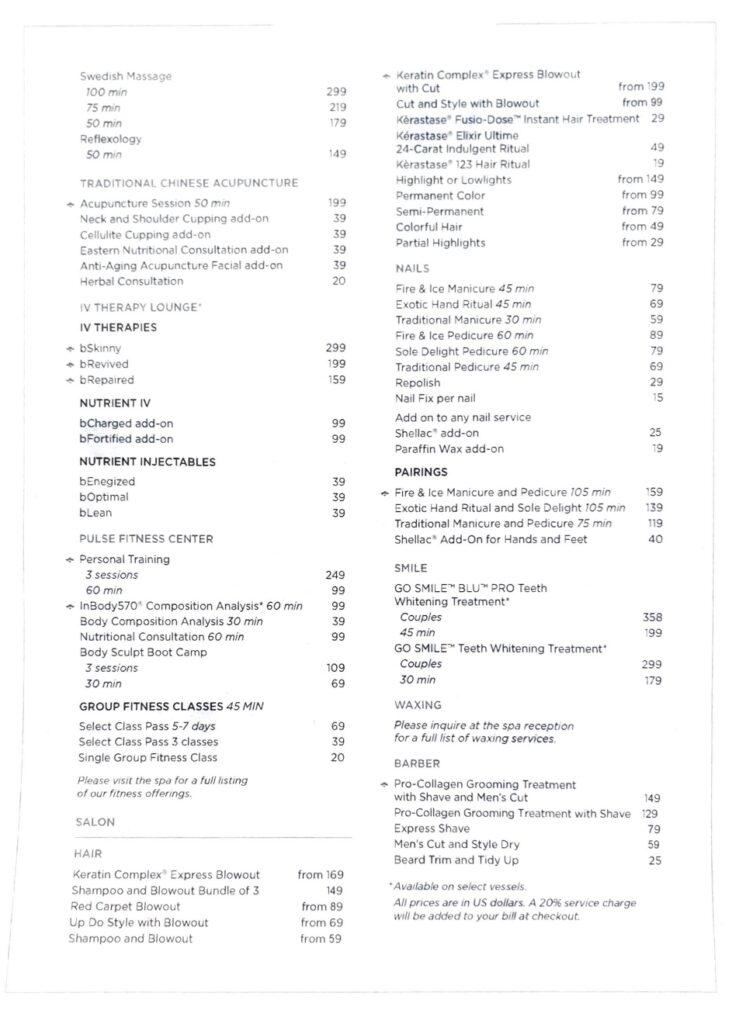 Which Type Of Spa Treatments You Should Go For?
Okay! After seeing the above list of spa treatments on NCL, the first question that might hit your mind is, which type of Spa treatment should you get? 
Well, It's up to you! The one who gives you real peace of mind is probably a preferable spa treatment. By the way! Don't forget to immerse yourself in weight training and cardio workouts.
On board, you will find a huge fitness center where you can start your day and pump your muscles. After a cardio or a workout, go for a spa treatment. 
I love massage therapies. You can go for Swedish, Herbal Poultice, Deep tissue, or Aroma stone therapies. 
The thermal space on Norwegian Cruises is also worth trying, and it's like a paradise where you can calm your body. Last time, I went to the thermal space; believe me, it's an ideal place to soak and release stress. After releasing your stress, you can savor a delectable drink onboard to refresh yourself.
So, based on your preferences, you can opt for a suitable spa treatment. 
Which Ship In Norwegian Fleet Offers Mandara Spa
The Mandara spa is found in the following ships on Norwegian Cruise;
Norwegian Bliss
Norwegian Breakaway
Norwegian Epic
Norwegian Dawn
Norwegian Star
Norwegian Joy
Norwegian Encore
Norwegian Escape
Norwegian Gem
Norwegian Pearl
Norwegian Prima
Norwegian Sky
Norwegian Jewel
Norwegian Sky
Norwegian Spirit
Norwegian Sun
Norwegian Viva
Does Norwegian Cruise Lines Offer a Free Gym?
Regarding the fitness center, the Norwegian Cruise Line stays ahead of all cruise lines. The Gym on board has free weights, TRX training, and other cardio equipment to break a sweat. 
But does Norwegian Cruise offer complimentary entrance to the Gym? Or do you have to purchase the pass? 
Yes, the Gym is free onboard; it will be open from early morning to late evening. I often go to the Gym before breakfast, and you can start your day more powerfully. 
But you must pay for guided workouts or group Pilates, Zumba, or Yoga sessions. 
I am Zoe Grace, a passionate enthusiast of cruise ships. With a decade of firsthand experience in the cruising industry, I have developed a deep understanding of the intricacies and wonders that these majestic vessels hold.
Now, I am excited to embark on a new journey as an author, sharing my knowledge and insights with readers who share my fascination for the world of cruising.
Join me as we explore the captivating world of cruise ships together.